Italian Language Course/Corso di Italiano per stranieri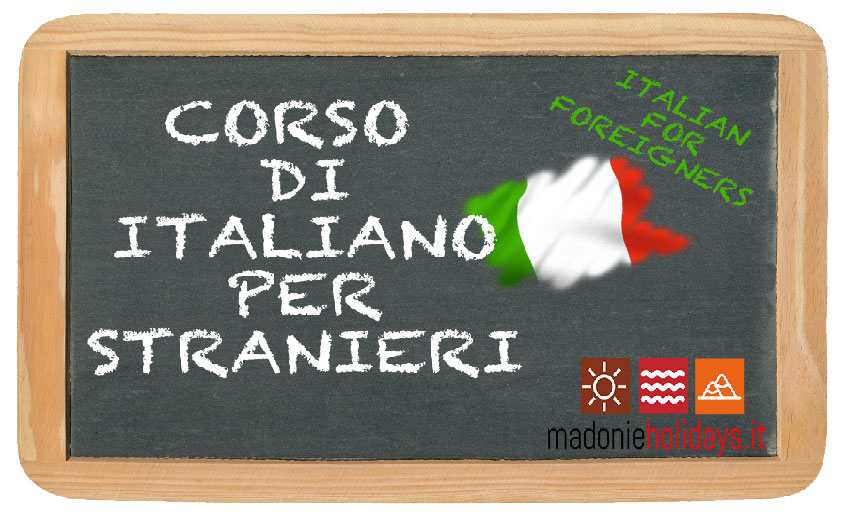 Duration: 5 Days (approx.)
Location: Cefalù, Sicilia
Product code: CIS1
Madonie Holidays is a young company engaged for some years in the development of tourism and hospitality, as well as in the sale of products and services to promote the development of an area extremely rich in artistic and natural beauty such as the Madonie Park. In this perspective of enhancing culture in its broadest ethno-anthropological meaning, Madonie Holidays, undertakes a new, exciting project offering Italian language courses for foreigners. What brings this project to life, is the love of aterritory extremely rich in material and human resources, an ideal place to study and learn without giving up leisure and entertainment.
Madonie Holidays, in fact, is located in an ancient palace dating back to the fifteenth century in the heart of Cefalù, a wonderful medieval village, as well as a seaside resort famous for its landscape and artistic beauties. Here the company has its headquarters, but also its cozy and comfortable apartments for tourist use.

The offer includes Italian language course and possibility of accommodation

Our main goal is student satisfaction. We offer quality teaching in a nice and stimulating atmosphere, with an approach based on the flexibility of methods and timetables, so to meet the various needs, both in the choice of a standard course or in the choice of individual lessons.

The discovery or improving of the Italian language will take place in the classroom but also through a varied program of activities, such as excursions, guided tours, tastings, cooking classes and the suggestive sailing tour.
The clear sea, the Rocca, the artistic beauties, the lush nature of the Madonie Park, the many music festivals, the proximity to the Aeolian Islands and then the many bars and restaurants make Cefalù the ideal place for a study vacation. And there is no better way, in our opinion, to approach the Italian language and culture through one of its most beautiful and authentic events here in the wonderful Sicily.
La Madonie Holidays è una giovane azienda impegnata già da alcuni anni nello sviluppo del settore turistico e della ricettività extralberghiera, così come nella vendita di prodotti e servizi allo scopo di favorire lo sviluppo e la promozione di un'area estremamente ricca di bellezze artistiche e naturalistiche quale il parco delle Madonie. In questa prospettiva di valorizzazione della cultura nella sua più ampia accezione etno-antropologica, la Madonie Holidays intraprende un nuovo, entusiasmante progetto offrendo corsi di lingua Italiana per stranieri. Ciò che alimenta questo progetto è l'amore verso un territorio estremamente ricco di risorse materiali e umane, luogo ideale per studiare ed imparare senza rinunciare allo svago ed al divertimento.

La Madonie Holidays, infatti, è situata all'interno di un antico palazzo risalente al XV secolo nel cuore di Cefalù, meraviglioso borgo medievale, nonché località balneare famosa per le sue bellezze paesaggistiche ed artistiche. Qui l'azienda ha la sua sede, ma anche i suoi accoglienti e confortevoli appartamenti adibiti ad uso
turistico.

L'offerta prevede un corso di italiano con possibilità di alloggio

Il nostro obiettivo principale è la soddisfazione degli studenti. Offrire un insegnamento di qualità in un'atmosfera gioviale e stimolante, con un approccio improntato alla flessibilità di metodi ed orari, proprio per venire incontro alle diverse esigenze, sia nella scelta di un corso standard, sia nella scelta delle lezioni
individuali.

La scoperta o l'approfondimento della lingua italiana, avverrà in classe ma anche attraverso un vario programma di attività, come escursioni, visite guidate, degustazioni, cooking classes e il suggestivo giro in barca a vela.
Il limpido mare, la Rocca, le bellezze artistiche, la rigogliosa natura del Parco delle Madonie, i tanti festival, la vicinanza con le isole Eolie e poi i numerosi locali e ristoranti fanno di Cefalù il luogo ideale per una vacanza-studio. E non c'è modo migliore, a nostro avviso, di avvicinarsi alla lingua e alla cultura italiana attraverso una delle sue manifestazioni più belle ed autentiche qui nella meravigliosa Sicilia.